University of Alabama
Alpha Chapter
We are UA's Pre-Health Honor Society dedicated to the encouragement and recognition of excellence in pre-professional health scholarship.
We hold weekly meetings during the school year Tuesdays at 7:00PM in Lloyd Hall Room 38. Make sure you sign up for the weekly email updates to get the most up to date information on speakers, events and more!
At these meetings, guest lecturers or AED's own members will cover relevant topics like studying for the MCAT/DAT/etc., what makes a good application for professional school, or our initiatives: their purpose and how to get involved. And more! These meetings will help better your understanding of the field of Health Care and why you should enter it, as well as give you guidance, resources, and opportunities that will help you in your path. NOTE: You do not have to be an initiated member to attend AED meetings. Please access our Meetings page for more information.
We welcome ALL students engaged in the pursuit of a professional health career (i.e. pre-medicine, pre-dental, pre-pt students among others.)
For more information about opportunities that AED provides outside of weekly meetings, subscribe to the weekly email updates (found on the top of the page).
---
Our History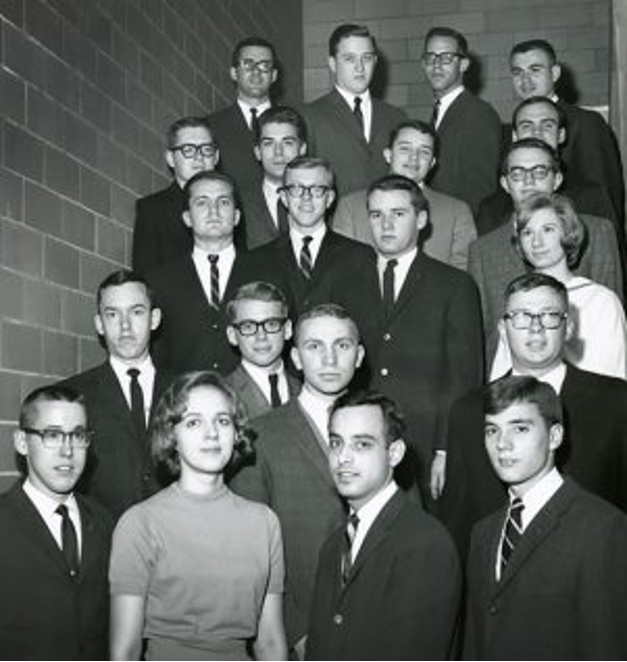 On April 28, 1926, fifteen premedical students at the University of Alabama met with Dr. Jack Montgomery, premedical advisor and professor of organic chemistry, to formalize the organization of a new premedical honor society.
From these modest beginnings, Alpha Epsilon Delta has become the world's largest Honor Society exclusively serving premedical education, with a membership exceeding 144,000 in 186 chapters.
AED provides pre-health students with valuable information and assistance in their quest for a career in health care. Weekly meetings provide excellent information from leading professionals in the medical field. In addition, our peer network assists in many aspects of a pre-health degree such as: tutoring, teacher recommendations, MCAT tips, course scheduling, and social events!!! Please stop by and see what AED has to offer you.
"The mission of the Society is to encourage and recognize excellence in premedical scholarship; to stimulate an appreciation of the importance of premedical education; to promote communication between medical and premedical students and educators; to provide a forum for students with common interests; and to use its resources to benefit health organizations, charities and the community." –
AED National Office
For more information about the history of AED check out the
AED's national history page.
---
The Scalpel – AED's National Magazine
The Scalpel is the magazine that encompasses the activities of all of the AED chapters around the nation. As the first chapter of AED formed our chapter's page is at the beginning of the magazine.
Click here to see their publications every semester!