*Masks removed only for photos & were promptly put back on*
---
PRE-HEALTH MENTORING INITIATIVE
bamaaedmentoring@gmail.com
Madi Boudreaux & Lily Wiedmer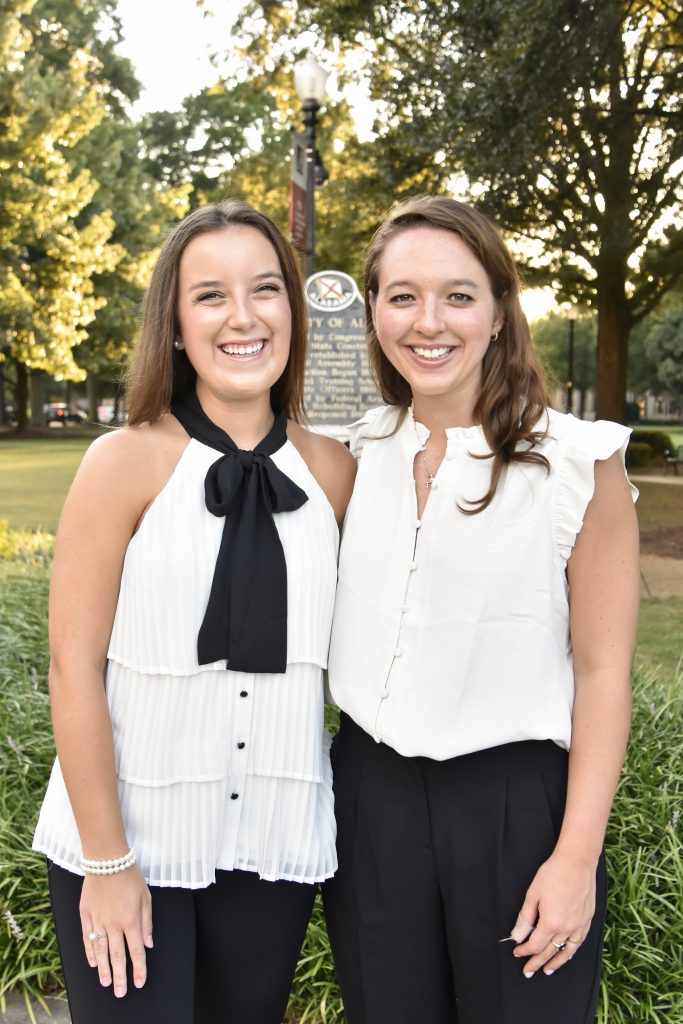 Hey y'all! My name is Madi Boudreaux and I'm so excited to serve as one of the Pre-Health Mentoring Initiative Directors for AED this year! I'm a junior from Baton Rouge, Louisiana majoring in Psychology on the Pre-Medical Track and minoring in the Randall Research Scholars Program and Biology. Besides AED, I'm involved with UA Dance Marathon, Greek Ambassadors, Chi Omega, and Cardinal Key on campus. I also volunteer with DCH and serve as the Fundraising Chair for the medical chapter of Volunteers Around the World at UA. The Pre-Health Mentoring Initiative has been an incredible resource for me as a student seeking a career in healthcare, providing valuable information, encouragement, relationship, and learning opportunities throughout my AED experience. Stay tuned for a great year with the Pre-Health Mentoring Initiative, and please reach out to me with any questions about getting involved in the initiative that you may have! 
Hello! My name is Lily Wiedmer, and I am excited to be your Mentoring Initiative Director for the 2021-2022 school year! I am currently a senior from Anniston, Alabama majoring in Biology and minoring in Food and Nutrition. Aside from school, I serve as my sorority's Health and Wellness chair, research the interaction between mother and child as a part of Dr. Scofield's ABCD Lab, and volunteer at local elementary schools as an ATL as a part of Al's Pals Mentoring Program. When I am not busy with school or extracurricular activities, I love to play piano or walk my two dogs, Millie and Tuck. Since freshman year, AED has given me ample opportunities and resources to help make my years as a pre-health student as smooth as possible, so I cannot wait to share what I have learned from previous members with y'all! 
RESEARCH INITIATIVE
bamaaedresearch@gmail.com
Meaghan Wharton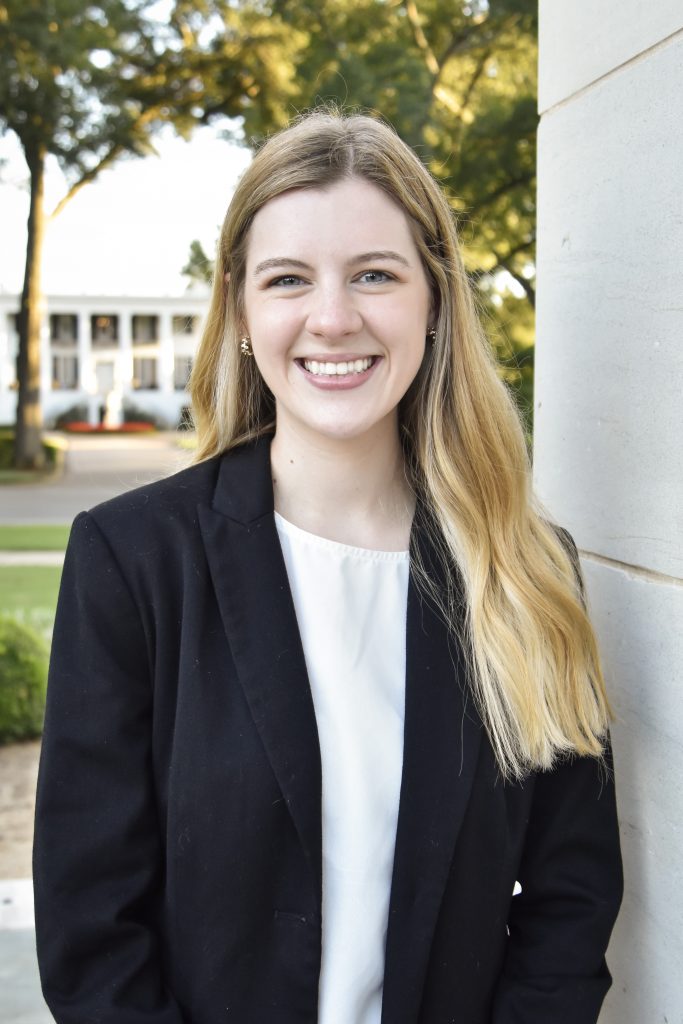 Hey y'all! My name is Meaghan Wharton and I am the AED Research Initiative Director. I am a senior from Dallas, Texas majoring in biology on the pre-medical track! I became involved with research after joining the Emerging Scholars Program's spring 2019 cohort, and became an ambassador for the Office for Undergraduate Research in the spring of 2020. I conduct research in Dr. Ryan Earley's animal behavior lab, where my project team is investigating the effects of endocrine disrupting compounds on the development of fish embryos. After graduation, I plan to earn my Masters in Business Administration at the University of Alabama, and then attend medical school and pursue a career in medicine!
VOLUNTEERING INITIATIVE
bamaaedvolunteering@gmail.com
Sarah Amjad & Meredith Cook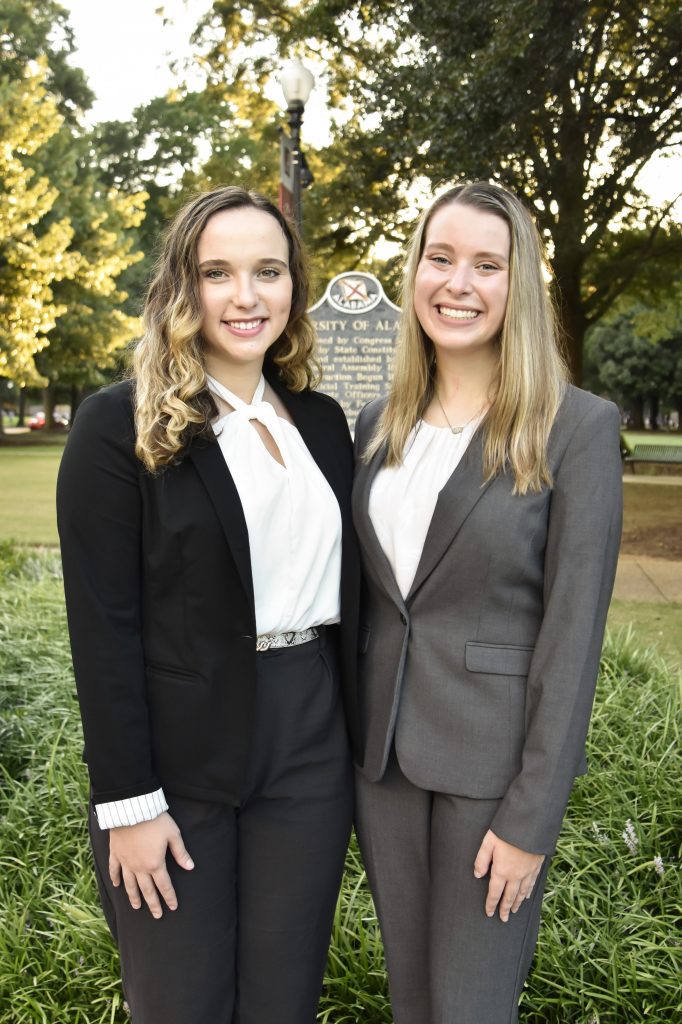 My name is Sarah Amjad, and I am one of the Volunteering Initiative Directors this coming school year. I am very excited to help you all get connected with the best volunteering opportunities in the Tuscaloosa area. I am always available, so feel free to reach out if you have any questions.
My name is Meredith Cook and I am a senior from Tuscaloosa, Alabama majoring in biology, minoring in psychology, and on the pre-med track. I am so excited to be one of the volunteering initiative directors for AED this year to help students find their perfect fit for earning volunteer hours and giving back to the Tuscaloosa community! I frequently volunteer at the Good Samaritan Clinic, but outside of volunteering I am a scribe for University Medical Center and an active member of the Well college ministry at Calvary Baptist Church.
METRICS HELP INITIATIVE
bamaaedmetricshelp@gmail.com
Marli Jones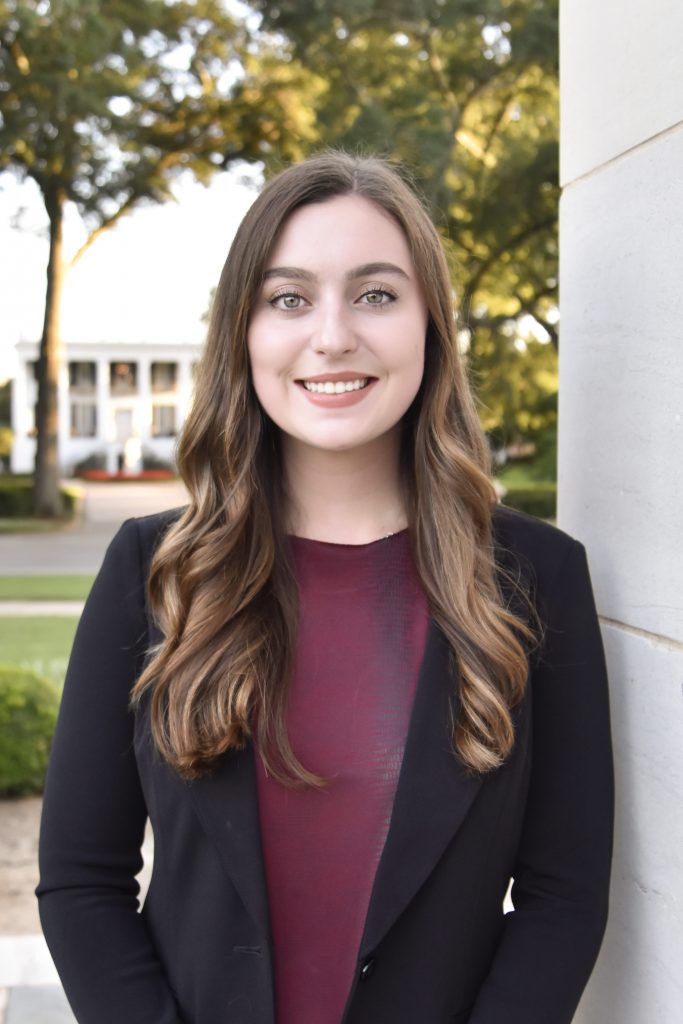 Hello! My name is Marli Jones, and I will be leading the Metrics Initiative this year. I am a senior from Dothan, AL, majoring in psychology and minoring in biology with the ultimate goal of becoming a primary care physician. Throughout this school year, I am here to help you keep your metrics strong! Your academic success is important to me, so always feel free to reach out for study tips, ways to access tutoring, resources for standardized exams, or any other advice you may need.
HEALTHCARE EXPERIENCES AND SPRING BREAK INITIATIVE
bamaaedhealthcareexperiences@gmail.com
bamaaedspringbreak@gmail.com
Eva Adams & Nathaniel Olliff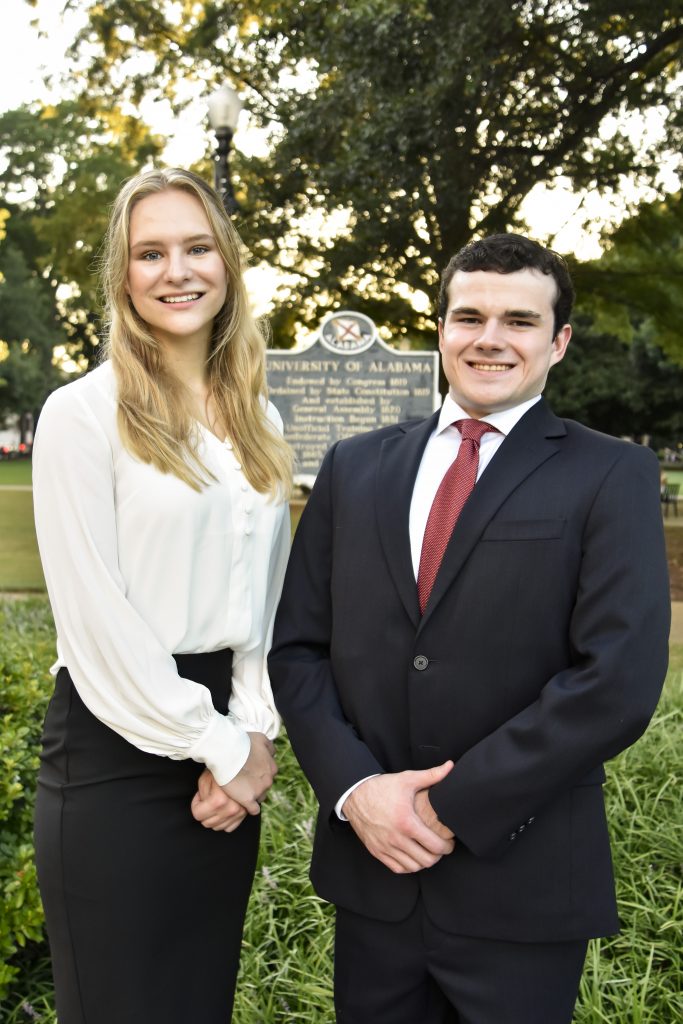 Hi everyone! My name is Eva Adams and I am excited to serve as medically related experiences initiative director for the 2020-2021 school year! I am a rising Junior from Richmond IL, majoring in microbiology and minoring in neuroscience. Outside of school, I volunteer with Therapeutic Riding of Tuscaloosa (TROT) helping people with various handicaps learn to ride horses, and assist in research in Dr. Olson's lab on coral pathogens. I have also shadowed physicians both in my hometown and at the University Medical Center here in Northport and taken a course to become a Certified Phlebotomy Technician (CPT). I look forward to serving you all this year by making shadowing and other pre-health experience opportunities more accessible. Please do not hesitate to reach out with any questions you may have. Roll Tide!
My name is Nathaniel Olliff, and I serve as an Initiative Director for Healthcare Experiences in Alpha Epsilon Delta. My hometown is Dothan, Alabama. I am a senior and a Biology major on the pre-medical track. I am currently researching traumatic brain injury in the laboratory of Dr. Ryan Earley, and I have served as a volunteer at DCH Regional Medical Center and at Flowers Hospital in my hometown. I have also had the privilege of shadowing a variety of fine physicians. As an initiative director, it will be my role to help pre-health students find opportunities for shadowing, volunteering, research, employment, and other experiences that will help them in their journey to professional school.