Meetings are held every Tuesday at 7 p.m. in Bio 127 (unless otherwise noted).
News
January 30th, 2017:
Practice with a Purpose
Take a free Kaplan MCAT quiz or practice test and help a student in need!
Kaplan has designed a new suite of practice exercises allowing students to practice with a purpose. Whether they have 5 minutes for a pop quiz, 20 minutes for a quickworkout or a free afternoon for a full-length, proctored practice test, we have them covered. As a bonus we have teamed up with the Boys and Girls Club of America this semester.  For each student who takes a practice quiz/test, we'll donate to the Boys and Girls Club of America with a goal  to donate 100 scholarships, valued up to $125,000, for students in need.
http://ktp.events/UAlabamaTuscaloosa
Biggest Sale of the Season on Unlimited MCAT Prep
If you're planning to take the MCAT in 2017, now is the time to get started. When you enroll by January 31st, you'll lock-in $250 savings (our biggest sale of the season) plus Unlimited Prep, so you'll have immediate access to unlimited MCAT class sessions, The MCAT Channel, and over 540 hours of total instruction and practice throughout the entire 2017 testing year.

Save $750 on MCAT Summer Intensive Programs
Looking for the most intensive MCAT prep experience?  Spend your summer break immersed in 6 weeks of bootcamp-style MCAT prep, led by some of Kaplan's highest-rated MCAT faculty at locations in Atlanta, Boulder, Boston, or San Diego.  Enroll now to save your spot with the largest possible discount available for this summer's programs.
January 24th, 2017:
We (the Medcom student directors) would love to get the word out about the Medicine and Community application to your members. Medcom is an Honors College service-learning program for students interested in medicine. Upcoming sophomores, juniors, and seniors with at least 3 hours of Honors Foundation credits are eligible to apply. The due date is Friday, February 24th and the application can be accessed via this link https://honors.ua.edu/programs/medicine-community/ or though mybama under the academics tab. In the Honors College banner, there's a link to the "Honors Involvement Application" that will take them to the MedCom app. Would it be a possibility to publish this information and link in the AED newsletter or in a listserv email to your members? I so appreciate you working with me!
Best,
Rachel Carlson
January 15th, 2017:
My name is Jimmy Toussaint and I am the executive director of Colline Foundation. Our organization runs the Haiti International Clinical Apprenticeship Program which has been offered as a summer opportunity to pre-meds at over 40 universities including Yale, Northwestern, Cornell and more. Our program participants are pre med students that are placed with physicians in Haiti and gain the kind of access that would otherwise be given to 4th and 5th year medical school students.
Thus far, we facilitated hundreds of students from universities across the country. You can click here to watch the HICAP Video which covers some of what students experience with us. Additionally, we have resources available for students who receive financial aid. Students in your organization may be able to take advantage of our summer opportunity at no cost if they apply for the Colline Foundation Scholarship.
I'm contacting you to share information about our summer opportunity in an effort to spread the word. We are currently accepting applications for our Summer 2017 program and there may be some students in the AED chapter at the University of Alabama that are interested in participating in this amazing, invaluable summer opportunity. I hope you enjoy the HICAP Video. There is more information attached to this email. Additionally, I added some photos that one of our participants snapped this past summer. I look forward to hearing from you. Have a great day. Thank you!
Reference: Pre-Med Student Testimonial
August 28th, 2016:
The annual Southeastern Medical Scientist Symposium (SEMSS) sponsored by UAB, Emory, and Vanderbilt will be November 5-6, 2016 at UAB this year. This meeting is a great way for your students to meet directors of MD/PhD programs from the three schools and to network with current MD and MD/PhD students. It is also a great opportunity for your students to share their research with their peers. Additionally, we are partnering with the Physician Scientists Symposium this year to bring in residents, fellows, and faculty who are training as physician scientists.
Registration and abstract submission are now open. We are also offering travel awards for undergraduates.
The deadline for abstract submission/travel award is 

September 15, 2016

.
The deadline for online registration is 

October 15, 2016

.
More information can be found in the attached flyers and at http://www.southeasternmdphd.org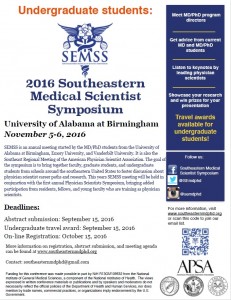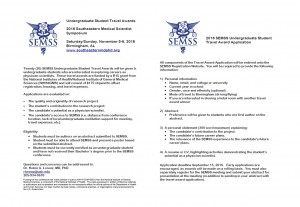 August 15th, 2016:
Dear all,
I am a medical anthropology professor working with two psychologists on intervention research with Head Start preschool children and their families in West and Central Alabama. The focus of the intervention is school readiness, stress management, social-emotional skills, and mental health. For the past few years, we've been regularly involving pre-med students in data collection at the schools, and in lab-based data analysis.
We are once again gearing up for data collection and analysis for the fall semester, and still have openings for additional undergraduate research assistants, especially on the team that I lead which is responsible for physiological assessments. An important part of the project involves measuring objective physiological markers of children's stress responses.
We offer course credit for those students who can fit additional hours into their schedule, and I've written a lot of strong pre-health letters of reference over the past 3 years.
Cheers,
Jason DeCaro | Associate Professor and Director of Graduate Studies
If you are interested, please contact Dr. DeCaro at jason.a.decaro@ua.edu.
August 3rd, 2016:
Greetings! I would love to share a service opportunity that might be of interest to your group! We are working with the university to start a Camp Kesem chapter at University of Alabama in Fall 2016. 

Camp Kesem is a nationwide nonprofit with over 70 college chapters across the United States. Our students work to plan, raise funds for, and execute a free weeklong summer camp for children touched by a parent's cancer. 

We were hoping you would be able to share this opportunity with any students who you think might be interested. It's a truly unique service opportunity for students, and we would love to have the opportunity to meet great students there! Feel free to also have them fill out this interest form (http://goo.gl/forms/ElzRGAVsUJ) to get more information about Camp Kesem. If you have any questions, you can reach me by email at tracey@campkesem.org. 
August 3rd, 2016:
The Washington Post recently reported that as of 2010 only 27% of college graduates had a job relating to their major.
In industries like healthcare, where job openings are projected to grow by 19% over the next decade, it's more important than ever to show students the career options available to them and the steps needed to attain their career goals.
In order to address these issues, our team at BestColleges.com created a career guide for healthcare which highlights several paths of study, specializations, and medical job positions at all degree levels.
August 3rd, 2016:
Are you passionate about education and helping others succeed? Always on top of the latest social media trends and maybe even dabbling in blog writing? Are you looking for a way to take your resume or grad school application to the next level? Then check this out! The Kaplan Student Brand Ambassador role is perfect for the well-connected student who loves social media and wants to have their creative voice heard!
Join our team and gain valuable experience:
Enhanced leadership, marketing, and presentation experience

Access to exclusive professional development workshops

Exposure to national marketing campaigns

$15/hour with flexible hours
Get the inside scoop on the Kaplan Student Brand Ambassador role by checking out this blog from the University of Michigan Kaplan Student Brand Ambassador, Danielle Purtell. To learn more about the role and apply, visit http://www.kaptest.com/pages/ambassadors.
Please go to the Pre-Health Calendar for a full list of the university's pre-health related events.